It's coming up to Christmas and up and down the UK the sound of
church bells
will be ringing through the air. Church Bells were rung to call people to morning prayer, reminding everyone that it was time to go church. The art of Bell Ringing has transformed over the years but at Christmas church bells are still used as an integral part of nativity celebrations.
A
South East Wales Ringing Centre
is being launched in
Usk
just outside Newport on December 19th. It aims to entice new people into the sport and to provide ongoing to training . This centre hopes to make sure that bell ringing will be enjoyed by many more generations.
I was taught to ring by my Mum but I'm a bit out of practice so I thought I'd find out a bit more about bell ringing and what Campanology in Cardiff has to offer.
Bell ringing
has been a team sport for hundreds of years. Towers can have a range of different bell numbers ranging from 6 to 12 or indeed more! Not only is bell ringing an archaic skill it's a actually a bit of a brain work out. There are lots of different ringing methods. The order of when each bell is rung changes and it can be very difficult to remember which bell you are meant to be following. I can just about manage rounds and call changes which is where the bells are rung in sequence (1,2,3,4,5,6,) and a then someone changes the ringing order by calling out different bell numbers. There are very complex ringing methods such as Stedman Triples, London Surprise Major and Little Bob Minor. Below is the ringing order for
Plain Bob Doubles
.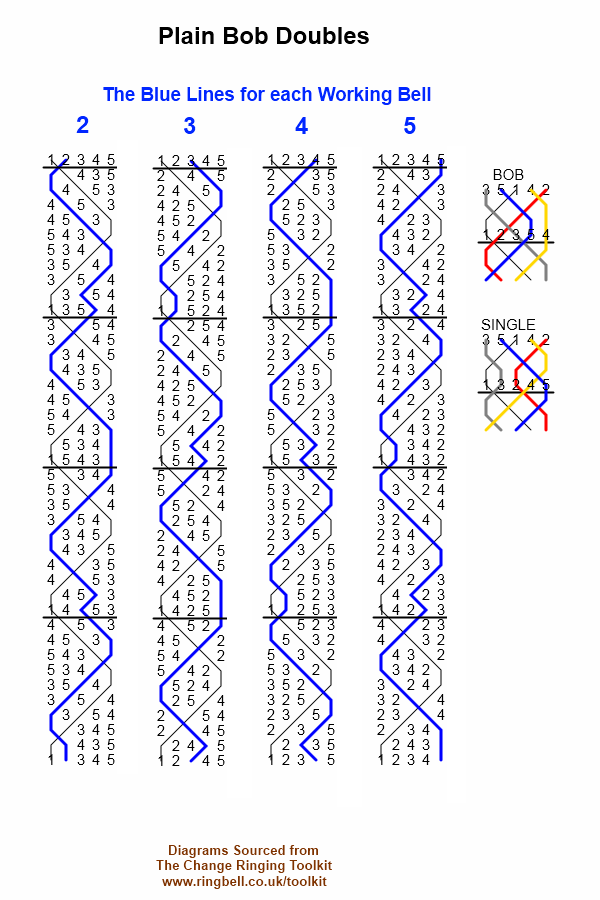 The lightest bell is usually called the treble and leads a bell ringing sequence. The person ringing the treble calls out "look to, treble's going, she's gone" when they start to ring. Making sure that all the other ringers are ready to start. At the end of a ringing sequence the term "stand" is used so that everyone knows when to stop. There is a bell ringing language and to see the full glossary of ringing terms click here. Certain Bell Towers enter competitions against other towers. It can become very competitive!
I went to ring at a few towers around Cardiff to see whether I could improve my Bell Ringing skills. Have a listen to my journey of when I met some of
Cardiff's Bellringers
.
First stop was
St Augustine in
Rumney
. They usually practice on a Monday night and when I visited the bells were tied so we could practice without making a any noise! I went up into the bell tower to see how the bells were untied...

There are six bells at St Augustine and they are quite light so that took a bit of getting used. I practiced standing the bell at the back stroke which is slightly scary. Backstroke is when you are ringing the bell and have your arms fully extended in the air (the right hand picture on the diagram).
I rung on the second, third and fourth bell and improved my basic ringing technique. Catching the sally (the coloured furry part of the bell rope) with all of my hand rather than just my fingers.
Next stop was
LLandaff Cathedral
. It was completely different to ringing at St Augustine. The bells were much heavier and the roof of the bell tower was much higher so it meant controlling the bell rope was a bit more difficult. As I was ringing with some very talented bell ringers the pace of the rounds was very quick so I had to concentrate hard to keep up! They usually practice on a Tuesday evening. They also ring for the Sunday services at Llandaff Cathedral and sometimes a group ring a
quarter peal
on Sunday afternoons if there are enough people. A
Peal
is a ringing method that consists of lots of changes and can often last up to four hours-hard core ringing!
I also rung at
St John's
which is the church in the centre of Cardiff. This tower is used by
Cardiff University
students as their practice night on a Thursday evening. I usually ring bell number four here as it is a nice weight for me. I love the fact that the church sits right in the centre of Cardiff so when the bells are rung the sound echoes out through the streets lined with shoppers. The church is surrounded by pubs, coffee shops and department stores. The bell sounds are like a spell being cast over the modern city, reminding it of its history, enchanting it with memories of old.
At St John's the bell were up so they had to be rung down. Have a look at how it's done!
There are many more towers around Cardiff that have bell ringing groups and if they are anything like the three I've sampled then they have a lot to offer. All the churches welcome new ringings and would like to see more people take up the sport. Campanology is something that a lot of people know goes on but don't know very much about. In an evolving city like Cardiff, the bell sounds provide a much needed grounding and homage to its heritage. So next time you hear the chimes across the city be sure to find out where they're coming from.